Delivery & Installation Information
Preparing for delivery of your new Hot Tub
Instructions for Before Delivery
Please be sure to read this information carefully. It will offer you the information needed to make sure the delivery and installation of your brand-new spa is safe and timely. The following notes are guidelines on how to prepare for delivery as well as the set-up of your new spa. Especially covered here are site selection, shipment accessibility, ground prep work, as well as electrical needs.
Also remember to carefully check the Owner's Manual that accompanies your spa, and the full terms and conditions of our services.
Before signing for any delivered items, please make sure that you have inspected your goods for damage and if necessary take photographs. We cannot be held responsible for any claims made for damaged items once the goods delivered have been signed for.
Collection, Delivery & Installation Fees
Limited Time Sale
Free Nationwide Delivery offer covers delivery to the UK Mainland only. (Excludes Highlands, Offshore Islands & Northern Ireland). Please contact us if you require delivery outside of this area.
Kerbside Delivery – POA Please call us and let us know your postcode
Collection – Free
Delivery and Positioning – £295 (200 miles from our showroom, then £1 additional per mile)
Installation (not including delivery) – For only £295 we can upgrade you to a full installation, where we fill your hot tub and give you a full demonstration on how to use it and go over all the chemicals and maintenance.
Deliveries That Require Lifting Equipment
It is the duty of the consumer to arrange an appropriate crane or lifting equipment if required for safe delivery. When the spa is being lifted, the obligation for safety and any damages that occur to the spa or home is the responsibility of the crane or lift operator.
Choosing the Site and preparing for delivery
It is the responsibility of the consumer to select and prepare the space where the spa will be located. Carefully read the following instructions and contact us if you have any questions.
Please inform our team if there is an existing hot tub in the delivery location that will need to be moved to allow access. This will incur an extra charge. Also, any cabling from existing hot tubs must match our specifications. If we are not informed that our delivery team will have to move a spa or that an incorrect cable is in place, additional charges may be incurred.
Whether you've selected to have your spa inside or outdoors, on a patio or on a deck, simply make sure of the following:
Outdoor and Patio Installation
Regardless of where you place your brand-new spa, it's vital that you have a solid structure to sustain it. Architectural damage to the spa arising from positioning on an inadequate foundation is not covered under the spa's limited service warranty.
A reinforced concrete pad at least 4 inches thick is advised for your spa if you mount it outdoors. If you put the spa on the ground, even temporarily, place stepping stones under the levelling areas. The stones ought to be at least two inches thick and also twelve inches square. Despite stones in place, the spa will unavoidably settle and may end up being unlevel. Plus, a spa surrounded by dirt or turf will quickly be full of dust or turf from the user's feet; as a result, it is very important to get it onto a strong structure as soon as possible.
Our delivery team will not install a spa on a poorly-built temporary surface.
To be sure that your deck can sustain your spa, you should understand the deck's maximum load capacity. Seek advice from a competent contractor or structural engineer before you position the spa on a raised deck or inside your home. To find the max weight of your spa, its contents as well as persons, please contact us. The weight per square foot should not go beyond the framework's rated capability, or significant structural damage might result.
If you wish to place a spa and surround it with outdoor decking, please remember that you will need access to the sides of the tub for maintenance and any repairs that might be required in years to come. You can create access from your decking to the sides of the spa, any opening ought to be big enough to allow an engineer access to the sideways panels of the spa and enable enough area for the engineer to remove the screws in the side panels. This is also the demand for spas that are sunken right into a pit or are inside.

IF YOU INTEND TO SINK YOUR SPA INTO DECKING. DEVELOP YOUR BASE, PUT YOUR SPA ON THE BASE, THEN BUILD DECKING AROUND IT AS LOWERING A SPA INTO A HOLE THAT IS ONLY JUST BIG ENOUGH FOR THE SPA TO GO INTO IS VERY DIFFICULT, REQUIRES AT LEAST 8 PEOPLE OR A CRANE AND COULD DAMAGE YOUR NEW DECKING.

If you have your tub surrounded by decking that needs to be removed before work (either warranty work or otherwise) can be carried out, this must be removed by yourself prior to our engineer arriving at your property as we cannot be held responsible for any damage that may occur to your decking or tub surround when it is removed for repair or maintenance purposes.
Bear in mind additionally that decking will vibrate and can have the effect of amplifying the noise from the pumps with its vibration.
Delivery Methods and Access
1. Get the dimensions of the hot you have purchased from us. You will need to consider that the spa will be supplied on its side on a hot tub Spa Sled.
2. The minimal size of a path that is typically needed is 950mm to enable us to deliver a spa on its side without damages to either the residential property or to the spa. However, a few of our larger spas are 920mm – 950mm as well and will certainly need a 50mm minimal clearance. Please inspect the size of the hot tub you'd like before placing your order. If you do have access constraints, please contact us and we can help.
3. Elevation can also be a concern, 250mm should be added to the longest dimension. If your hot tub is 2100mm x 2100mm, when it gets on its side on the Spa Sled it may stand 2350mm high. Any kind of obstructions will need to be removed to enable safe access.
4. You should take into consideration that the trolley is not flexible and will require a wide turning area.
5. Steps can also be a concern as hot tubs are hefty bulky items that can be really difficult to carry up steps.
Extra assistance by several fit, able-bodied people will be needed in the event of needing to get a spa up several steps.
The Customer is responsible for making sure there is adequate access for our Delivery Team, as outlined above. If you have any doubts about your access, please contact us in advance. Adequate access includes reasonable preparation of the delivery site, such as clearing away any gravel to minimise the risk that gravel may enter the Spa Sled and cause scratches to the spa.
Be aware that there are special requirements for spas placed indoors. Water is likely to accumulate around the spa, so the flooring needs to provide a good grip when wet to prevent injury. Proper drainage is essential to prevent a build-up of water around the spa. When creating a specific room for the spa, it is recommended that you install a floor drain.
The humidity of the indoor space will also naturally increase with the spa installed. Water may get into the woodwork and produce dry rot, mildew, and other problems. Make sure to regularly check for the effect of moisture on exposed wood, paper, etc. in the room. To minimise these effects, it is best to provide plenty of ventilation to the area. An architect can help to determine if more ventilation should be installed.
Any electrical supply for a hot tub outdoors should be installed by a competent, certified electrician.
All works must be certificated to part P of the building regs. Electrical installation work should always conform to BS:7671 17th edition of the wiring regulations
Most, if not all domestic Hot Tubs are designed for single-phase 230v ac operation
We will tell you the total load the Hot Tub will draw at full operation. A certified electrician will then be able to work out what size of cabling is required. Even the smallest Hot Tub would usually require at least a 16-amp supply. Bigger spas with 3 pumps or more generally require a 32-amp supply but this is a guide only.
All outside electrical supplies must have mechanical protection, this is either in the form of steel wire armoured cable (SWA) or suitable conduit.
The Hot Tub must have its own dedicated circuit with the correct size fuse breaker and RCD protection. See spa specifications for further details.
A rotary isolator switch not closer to the Hot Tub than 2 metres is required so that the Hot Tub can be isolated from the main supply quickly and efficiently
We generally ask for a coil of cable to be left immediately next to the Hot Tub base so that we have enough to wire it in whichever final position the customer chooses.
Scunthorpe Hot Tubs specific requirements for circuit breakers
Almost all Scunthorpe Hot Tubs hot tubs require a 32 amp RCD protected circuit breaker to be fitted to your consumer unit. From the consumer unit, you should have suitably armoured cable or cable protected by a suitable conduit to a suitable waterproof outdoor isolator switch 2 or 3 metres from the spa. Please consult your electrician for cable thicknesses.
From the isolator switch, there needs to be enough cable left to reach the furthest away corner of the spa so that our engineer can connect it to the hot tub or swim spa.
Please be aware that not all 13amp hot tubs come with a cable and plug attached and for those that don't, you may require Full Installation if you want our engineers to set this up. If you're unsure or have any questions please contact us. An IP65 Waterproof socket must be between 2-5 metres away from the siting of the hot tub. If a longer cable is needed, please let us know before delivery.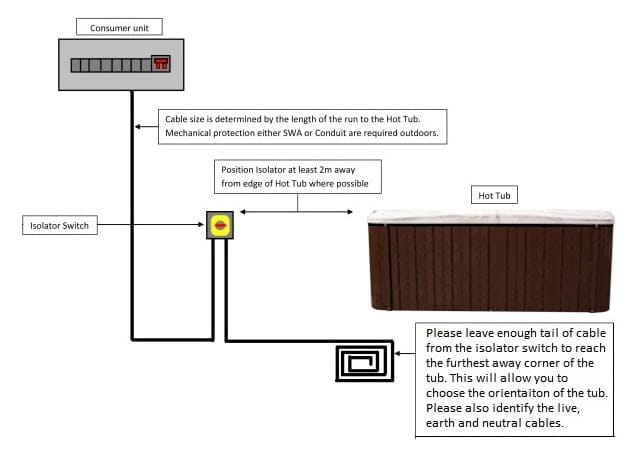 Requirements (Air Source Pumps)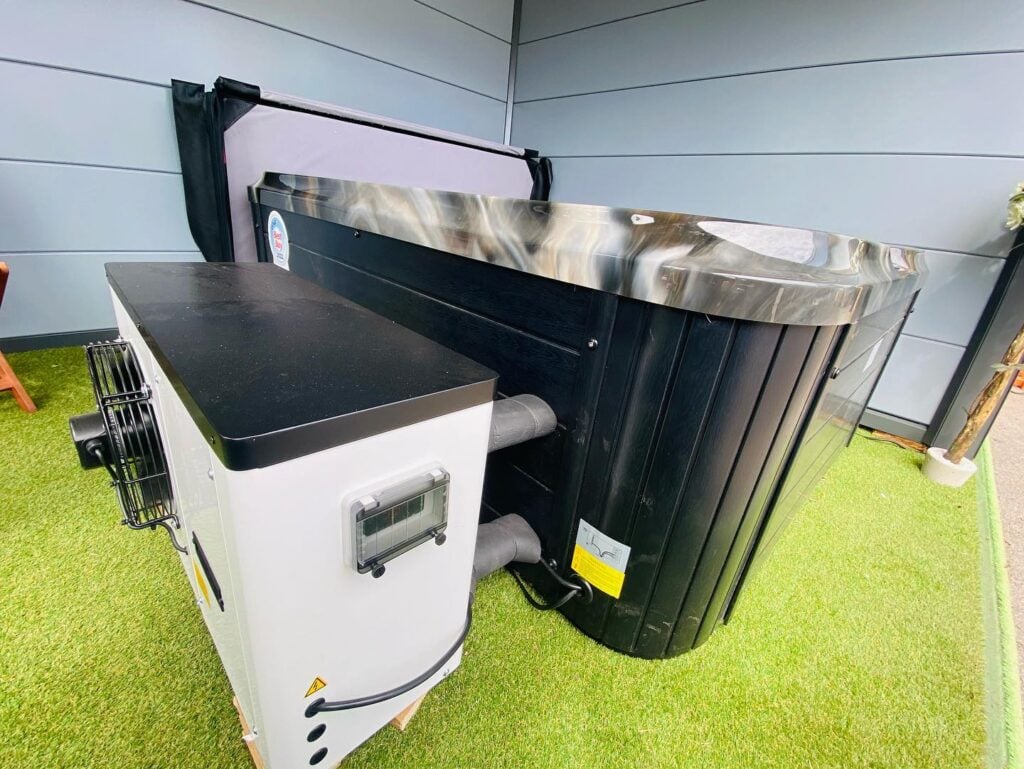 *Illustration Purposes Only*
1. Electrical requirements – The air source heat pump requires a 13 amp outdoor socket.
2. Installation – Each installation will vary, we will review and discuss the best fitment and location for the heat pump with you. We will undertake some basic modifications to your hot tub/swim spa to plumb the heat pump into the heating system. There will be an inlet and an outlet pipe plumbed into the hot tub base/cabinet to provide circulation through the heat pump.
3. Location – The heat pump requires a minimum of 450mm of inlet space and is recommended to have a minimum of 1500mm of space for the fan outlet.
Due to how the system works, our air source heat pump will still produce heat even if the ambient air temperature is below zero as the compression of the refrigerant creates heat. Not only is this a far more cost-effective solution to heat your hot tub, it is also a much more eco-friendly option.
Email: info@scunthorpehottubs.co.uk

Unit 5, Scunthorpe Eastgate Park,
Queensway Industrial Estate,
Scunthorpe DN16 1AE
Opening Times
Mon-Sat: 10am – 5pm
Sun: 10am – 4pm